Bridge of Weir calls for transparency on interior material sustainability claims
The automotive industry has been built on innovation with vehicle manufacturers relentlessly seeking and developing new technologies. Today's move away from combustion engines to zero-emission vehicles is the biggest change in the motoring landscape since it began – and with it comes a paradigm shift that aligns with the zeitgeist of how brands and consumers alike think about sustainability and their impact on the environment.
At Bridge of Weir, we take a huge amount of pride in creating the world's most luxurious, lowest carbon leather and offering our customers 100% transparency and traceability of raw hides with an independently verified Life Cycle Analysis of 8kg CO₂e/m². This enables our customers to make a quantifiable carbon reduction on vehicle interiors and helps reduce their own carbon impact on the planet.
Customers and, ultimately, consumers want to make the best choice of interior materials. For some, that can potentially include animal-free materials, however, informed decisions can only be made if all suppliers offer full disclosure. There has recently been a wave of new synthetic materials which make bold claims about their superiority over sustainable leather in terms of environmental impact and performance. Sadly, the lack of transparency is causing confusion regarding material composition and performance and is greenwashing by omission.
The recent exposé on fast-fashion retailer H&M following a complaint by the Norwegian Consumer Authority shows how a company's environmental promise can be undermined by portraying products as being better for the environment than they are.
What do leather alternatives consist of?
The term 'vegan leather' has become a popular marketing buzzword, leading consumers to believe materials made from plant-based materials such as pineapples, mushrooms, cacti, etc, perform better and are more sustainable than genuine leather – but this is rarely accurate. According to Ecocult  'companies in this space tend to promote their cruelty-free and vegan credentials; however, these terms don't actually denote sustainability.'
Some 'vegan leathers' might not contain animal products, but they have been found to contain petrochemicals and forms of plastic.
In 2021, a report by the Filk Frieberg Institute uncovered the presence of toxic chemicals and plastics in a range of leather alternative materials.
An independent survey* of 2000 UK consumers found that:
'when it comes to 'vegan leather' there was an alarming level of confusion - over half (54%) of respondents were not aware of the composition of this material and in that regard, 74% agreed that 'it should be easy to see what I am buying and that labelling should not be misleading.'
The market has also seen the introduction of materials made from recycled plastics. These products often require new virgin plastic material to be made to create them, which, combined with the fact they cannot be recycled, introduces another environmental problem rather than solving one.
How does performance compare?
Due to the nascent nature of such materials, prospective buyers are likely to be unaware of how well they perform or how durable they are. Sustainable leather repurposes a natural waste product from another industry. It is the ultimate form of upcycling, creating a product that is superior in comfort, durability, and performance. The Filk Report included a series of tests to assess the comfort and performance of leather versus various alternatives and concluded that:
'For technical use, leather shows the most comprehensive behaviour for universal criteria, i.e. the best values for most parameters'
In addition, because synthetics cannot match genuine leathers' durability and performance, they have to be replaced more frequently, creating further unrecyclable landfill. While some brands are considering moving away from sustainable leather the irony is, if it were invented today, it would be considered groundbreaking.
 
Sustainable leather is steeped in circularity, plastic composites are not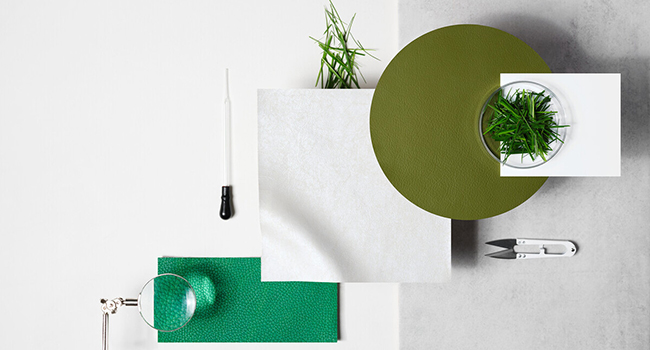 Sustainable Leather production is circular – cows eat the grass, and the meat provides an important source of protein. The waste is converted into beautiful, durable leather that enjoys an extended use phase, can be repurposed and ultimately biodegrade more efficiently, and can then be recycled as fertiliser to help the grass grow.  
Whereas taking plastic bottles and mixing them with plant-based components to create a composite, results in a material with a shorter lifespan, which cannot be recycled and takes much longer to biodegrade, making it linear. This is because sustainable leather is c80% bio-based, while most plant-based alternatives are only around 30% bio-based.
In addition, the global environmental network Greenpeace said 'Plastics are inherently incompatible with a circular economy,"  in a report that brings together research showing recycled plastics are more toxic than their virgin constituents.
As a society, we produce too many petrochemical-based materials for fast fashion, furniture, and affordable consumer products. Yet, as we know, these types of products don't last as long and need to be replaced – creating landfill. The same applies to plant and plastic composite materials for car interiors.
 
Endorsement of sustainable leather from customers and NGOs
The automotive industry is becoming aware/educated on the multiple reasons why leather is a truly sustainable choice for automotive interiors. Upcycling a waste material that already exists is far better than creating a new virgin product which contains plastic.
Last year, the progressive automotive brand, Polestar re-introduced leather to its range of interior material choices for consumers. Initially, it wanted to offer only 'vegan' materials but reversed that decision because it came to realise that leather could not be replaced in a sustainable way and that leather produced to the highest standards, as Bridge of Weir does, helps a brand meet its sustainability targets. 
Recently the World Wildlife Fund (WWF) endorsed the vital role sustainable leather presents in the circular economy.
It published a report confirming:
'Leather is steeped in circularity and indeed is one of the oldest forms of upcycling.' 
The factual report cuts through the noise against alternative materials and validates leather as an environmentally positive product.  
 
Why Bridge of Weir Leather?
We are transparent about our sustainability practices, and we are transparent about our products. With the correct information made available, consumers choosing what material to be in their next car can be a well-informed decision. As it should be.
*Survey conducted independently on behalf of Leather UK with a nationally representative sample of 2000 UK adults